Interested in booking a fishing trip?
Make sure to double check our availability calendar.
Pensacola is one of the hottest destinations to book a Red Snapper fishing trip. Deep sea fishing for Red Snapper is one of the most exciting types of ocean fishing. Snapper are beautiful fish, powerful fighters, and they are one of the most sought after seafood dinner plates, world wide.
The Gulf Red Snapper – Lutjanus campechanus – are abundant in the near shore and offshore waters of Northwest Florida. This species of snapper can grow to reach 30+ pounds, and the IGFA World Record was 50 lbs. and 4 oz. Red snapper range in depths from 30 to 300 feet, and they frequent artificial & natural fishing reefs. As juveniles, snapper use the cover of deep sea structure to remain secure during the daylight hours, and venture out across the sand in search of shrimp and crustaceans at night. Adult Red Snapper will eat just about anything, including juvenile snapper.
Red Snapper Season Dates
In decades past, Red Snapper were declared to be in decline. As a result of strict regulations, the Red Snapper population has rebounded with a vengeance. Red Snapper are now abundant, and thriving in the Gulf of Mexico.
Florida State Waters Snapper season opens, Saturday before Memorial Day (May 23, 2015) and runs through July 14, 2015.
Gulf of Mexico – Federal Waters Snapper Season to be announced…
How to fish for Red Snapper
The fishing trip length and type will determine the ideal method for catching Red Snapper. While most snapper are very aggressive feeders and will bite on just about any type of gear, the old giants are much wiser and aware of moderate to heavy tackle.
On longer length, private fishing charters we can be a little more selective and use some lighter tackle to entice the "sow" snapper. Careful now, it takes some skill and a lot of finess to land a 20 pound fish on 12 pound line!
On walk-on charters, we will mix it up. In order to minimize "line crossing" in the current, we use some heavier rigs that tend to hold straight down. One advantage of the heavier gear is that two hooks can be fished at the same time, and allow for double "hook-ups". For you land lubbers, that's two fish at a time! Another advantage to the heavier fishing tackle is that the fish can be reeled in at a much faster pace and, the action is just a thrill! The average size Red Snapper caught on two hook rigs ranges from 2-20 pounds, and a pair of ten punders will bring you to your knees!
Pensacola Beach and the charter boat "Total Package" are better than ever! Go deep sea Red Snapper fishing with us and you will see why our customers keep coming back!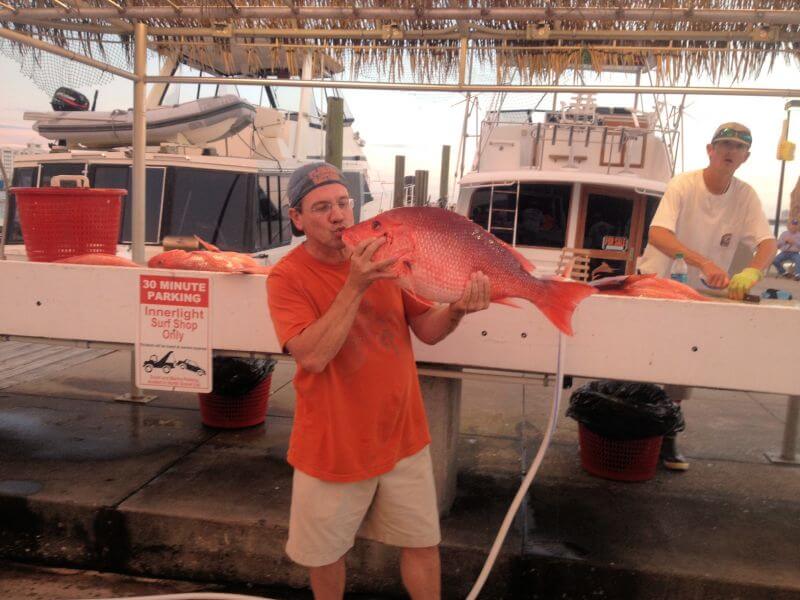 Check out what other fishing trips we have to offer…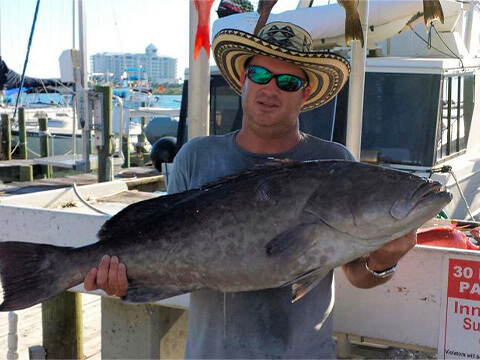 Black, Gag, Red, Scamp, Yellowfin Grouper grow to become deep sea monsters! Deep sea fishing trips for grouper are a workout. Scamp grouper is the "fillet mingon" of all the grouper family…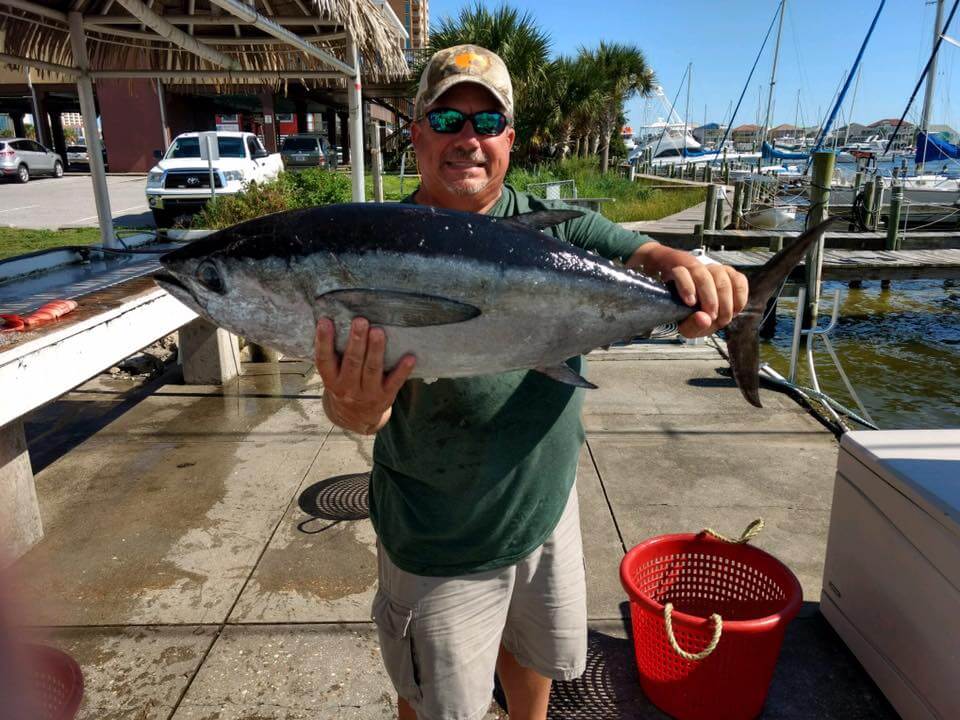 Yellowfin, Blackfin, and Big Eye Tuna are plentiful in the offshore waters of the Gulf of Mexico. Overnight deep sea fishing trips to the oil rigs present the opportunity to harvest one of the most prized tuna fish in the world…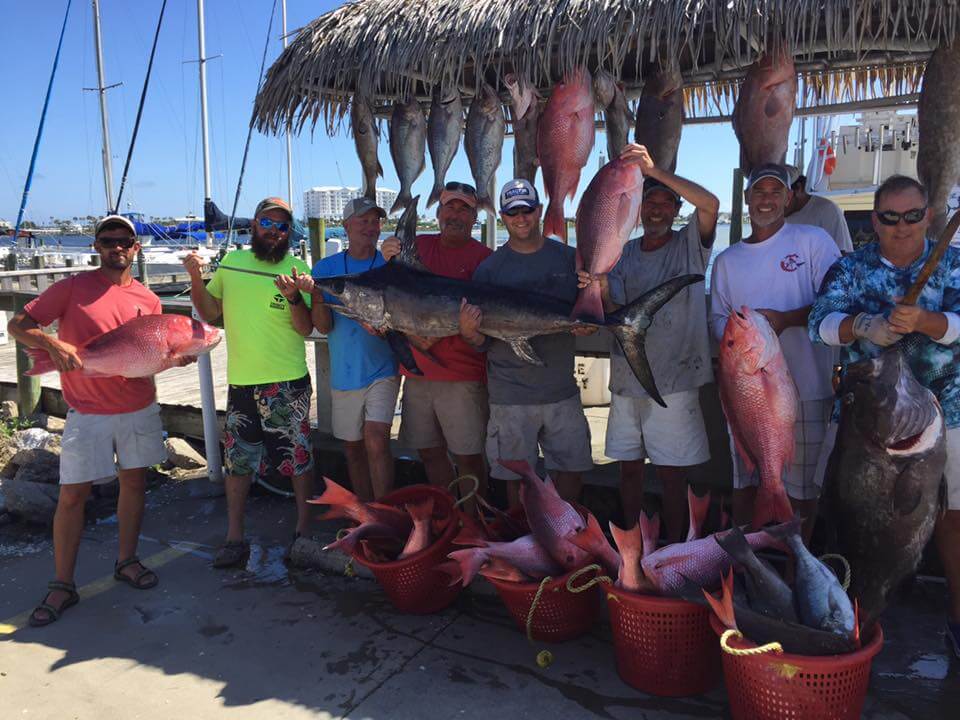 This is the ultimate big fish excursion! Overnight Sailfish and Marlin fishing with Total Package Charters takes up to eight passengers to the offshore oil platforms located 70 miles from Pensacola Beach.